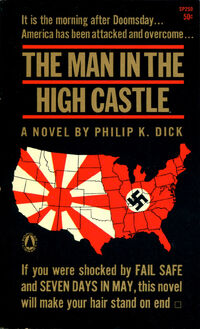 "The Man in the High Castle" is a 1962 alternate-history novel by American writer Philip K. Dick. Set fifteen years after an alternate ending to World War II in which the war lasted until 1947, the novel examines the differences that might exists in the daily life of a post-war America had the Axis Powers of Imperial Japan and Nazi Germany defeated the Allies. In this timeline, the two victorious nations share totalitarian rule over the former United States, and the tensions between the two victors are at the forefront of the plot. Dick received the Hugo Award in 1963 for The Man in the High Castle.
Ad blocker interference detected!
Wikia is a free-to-use site that makes money from advertising. We have a modified experience for viewers using ad blockers

Wikia is not accessible if you've made further modifications. Remove the custom ad blocker rule(s) and the page will load as expected.